A worthwhile investment
We are only as strong as the communities in which we do business.
The Blue Grass Valley Bank cares about its customers, employees and the region, and we give back through a variety of activities, resources and donations. A few examples of our community involvement include:
Supporting nonprofit organizations through charitable giving
Participating in fundraising events
Employee participation in "Jeans for a Cause" raising money each quarter for a selected nonprofit group by paying a fee to wear jeans on Fridays and Saturdays
Investing in the next generation of farmers and supporting local youth by purchasing animals at the Highland County Fair Livestock Auction
Sharing our knowledge in finance with local students at career day and through planned classroom activities
Monthly banking lessons to the "Smart Savers" at Highland Elementary School
Active participation from our employees and directors on local boards/committees and in civic organizations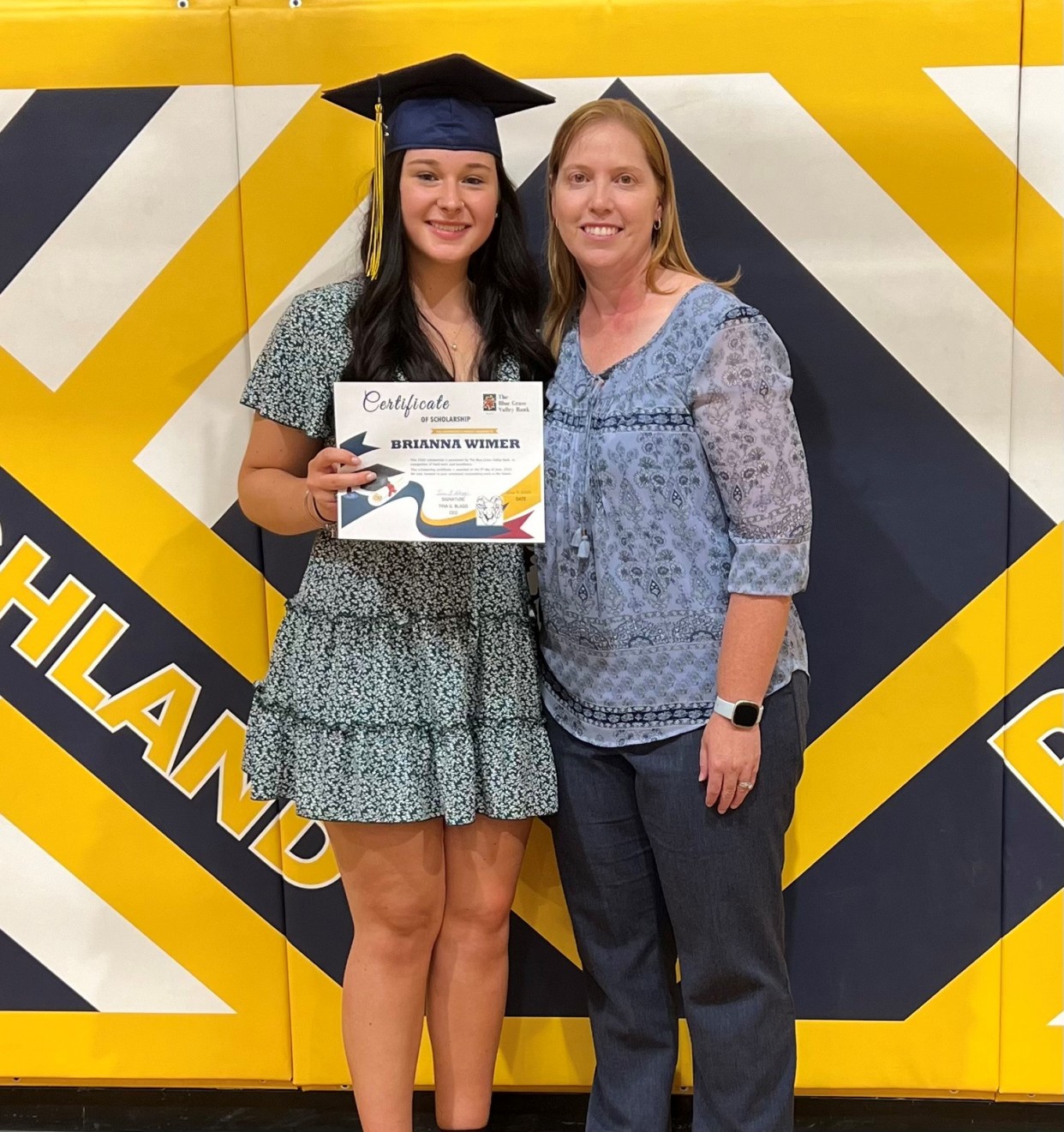 Bank CEO, Tina Blagg, presents the 2023 BGVB scholarship to Brianna Wimer. We wish Brianna the best at ECU for a bright future.

We are a proud supporter of the 4-H/FFA livestock show and sale. We presented each participant with a livestock working stick to thank them for their hard work and dedication in keeping local agriculture heritage alive. We also purchase animals to support their projects. We wish each participant the best in their future.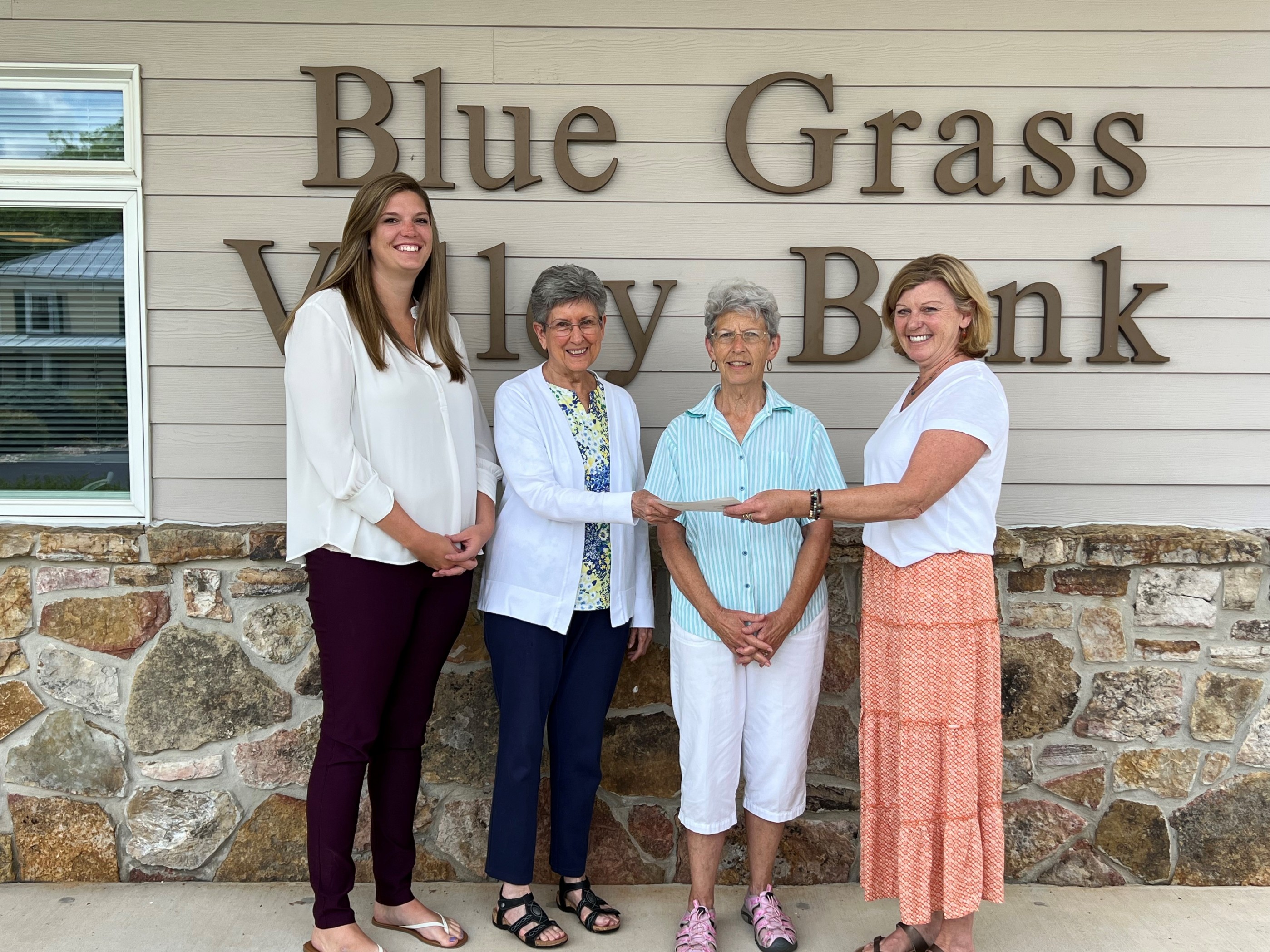 Highland Hospice and Respite Care were recent recipients of the Blue Grass Valley Bank employees' "Jeans for a Cause." Pictured are bank CSR, Emily Smith (far left) and Loan Officer, Lisa Kodger (far right), who presented the donation to Kathy Solomon and Ellen Ratcliffe on behalf of Highland Hospice and Respite Care.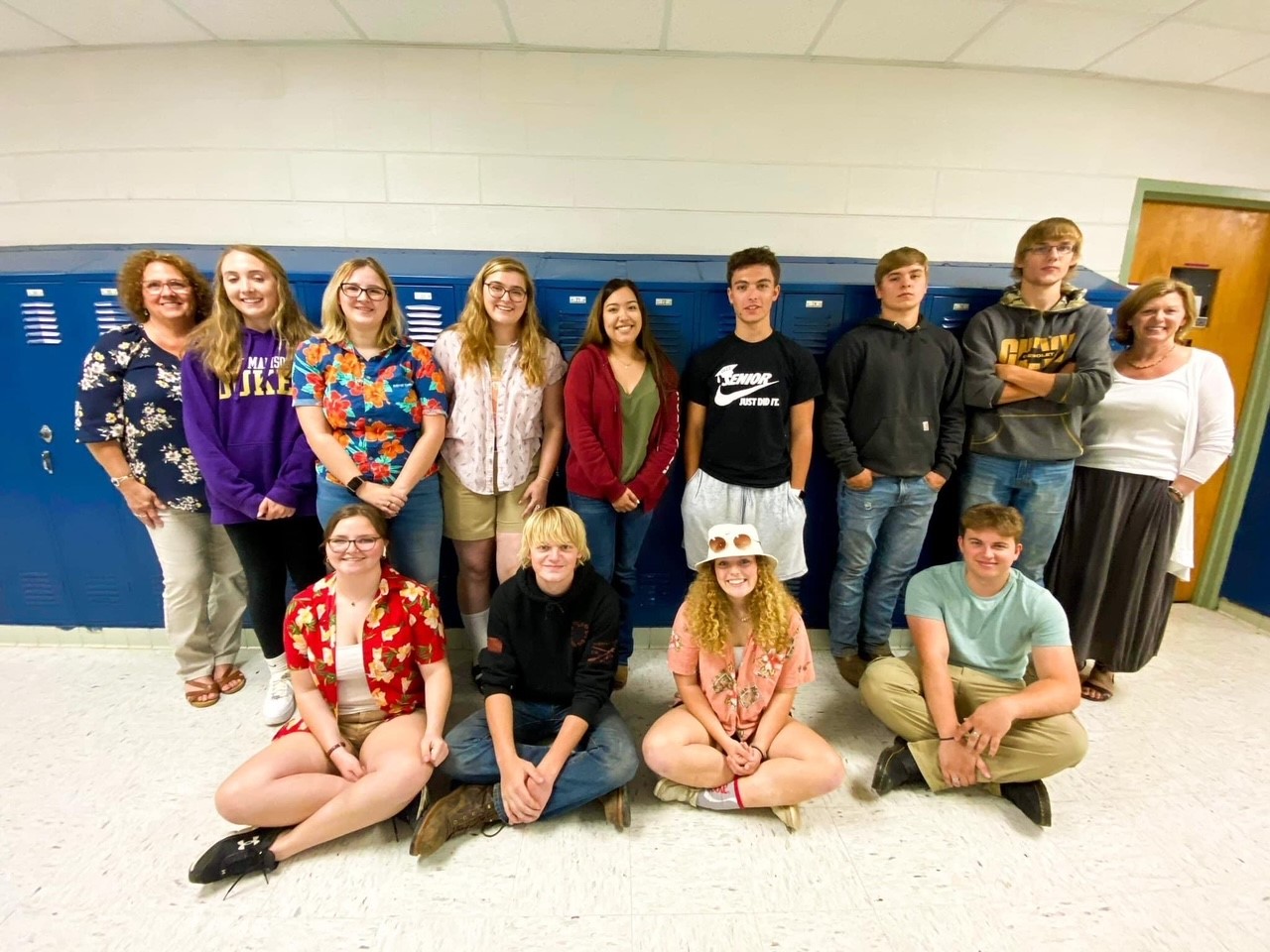 Loan Officers, Marianne Harman and Lisa Kodger, spent an afternoon teaching Highland High School Seniors a class on credit. Time was spent educating students on financing options and building on their credit responsibility.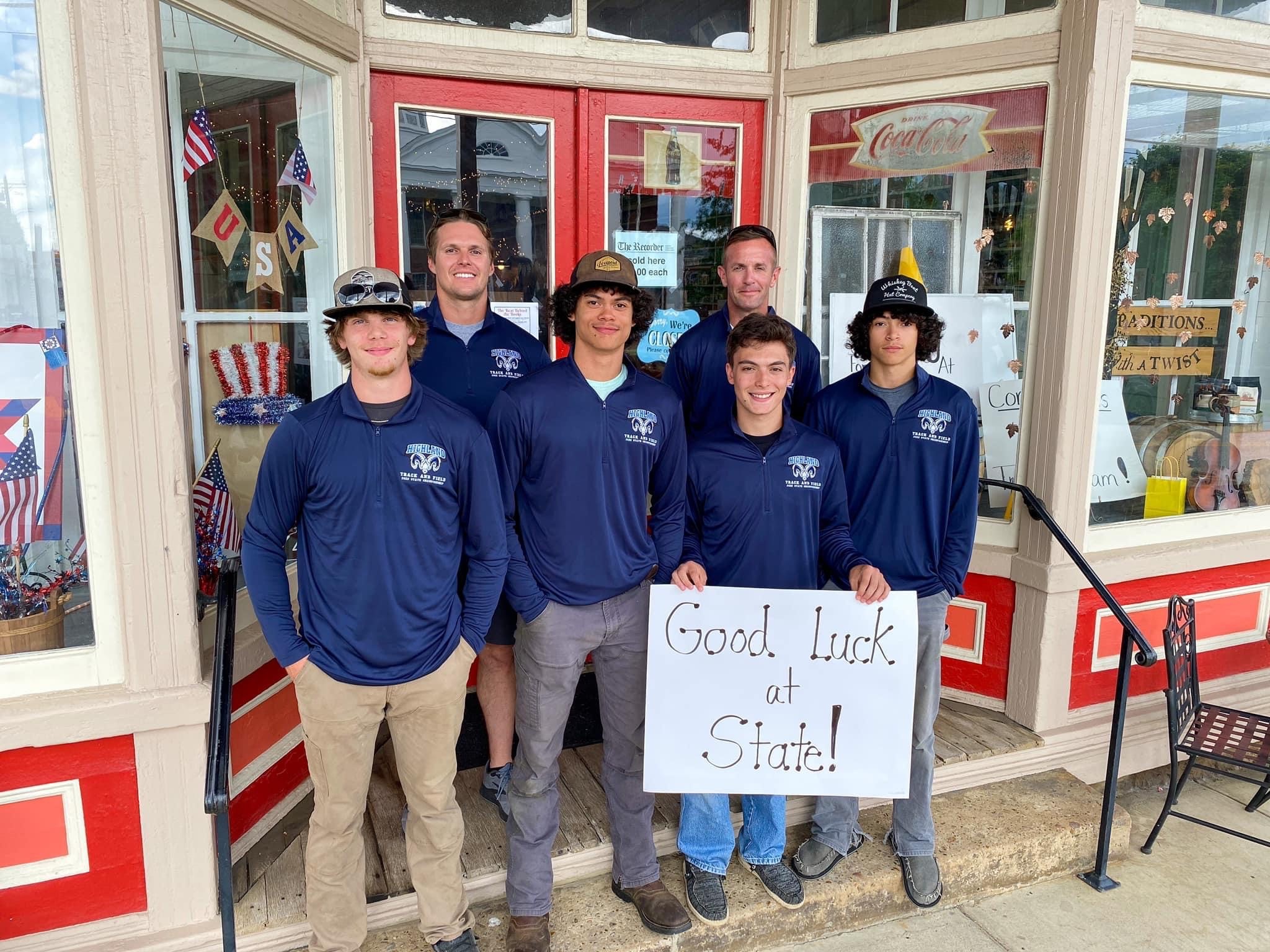 The Bank was delighted to sponsor and present shirts to our hometown track team for representing Highland High School at the State track meet. Congratulations to the 4x100 relay team on your 6th place finish. Pictured are Coaches, Colby Jackson and Danny Hull with Colton Williams, Ethan Moore, Cayden Roberson, and Eli Moore (left to right). Go RAMS!!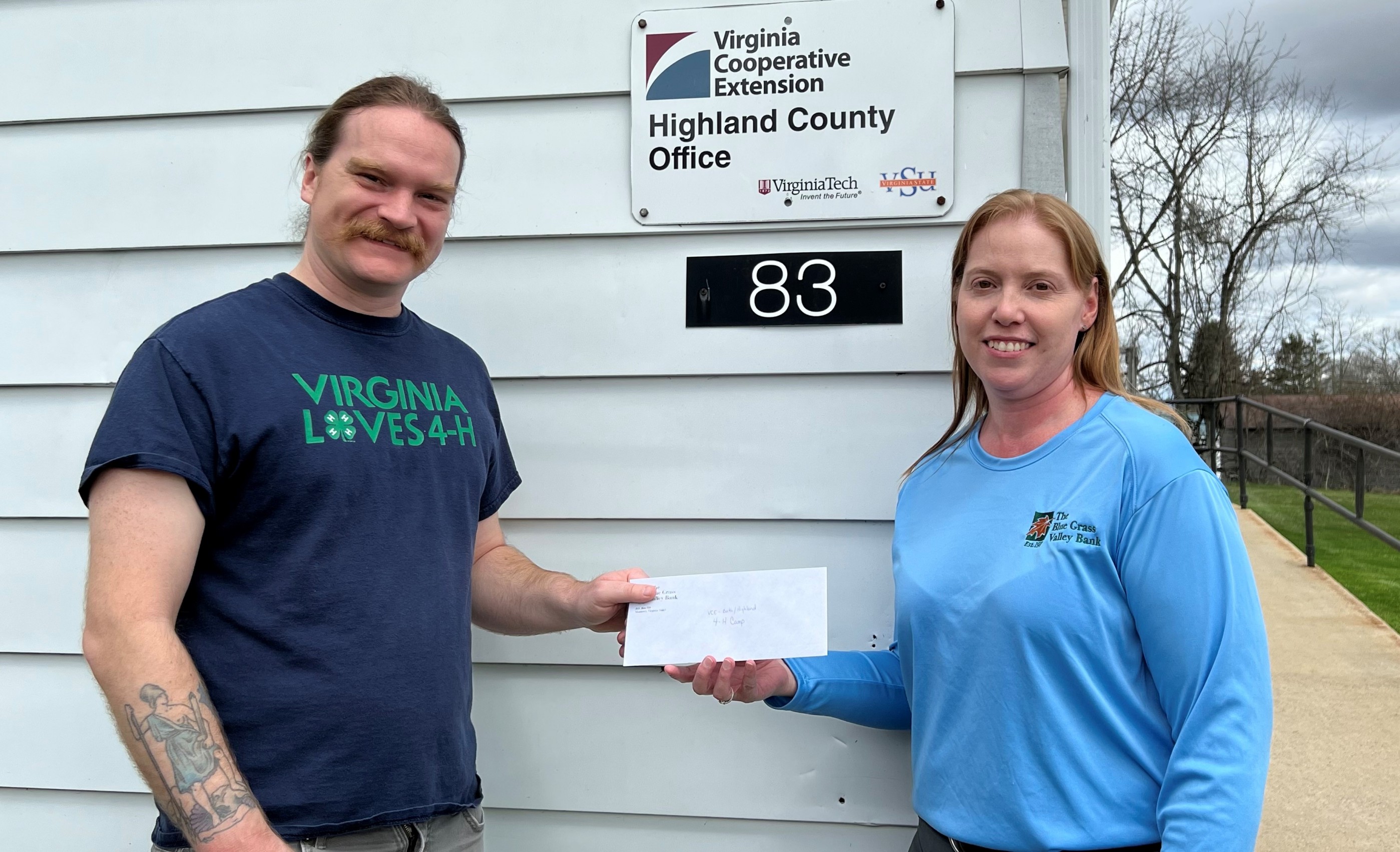 Highland County 4-H was the recent recipient of the Blue Grass Valley Bank employees' "Jeans for a Cause." Pictured is Bank CEO Tina Blagg presenting the donation to Ben Hindman, 4-H/ANR Program Associate, on behalf of VCE Highland & Bath. The donation will be used to help off-set the cost of Junior 4-H Camp. The Blue Grass Valley Bank is also a proud sponsor of the 4-H Food Booth's refillable stadium cup at the Highland County Fair. Visit the 4-H Food Booth for healthy food options during the Highland Co. Fair.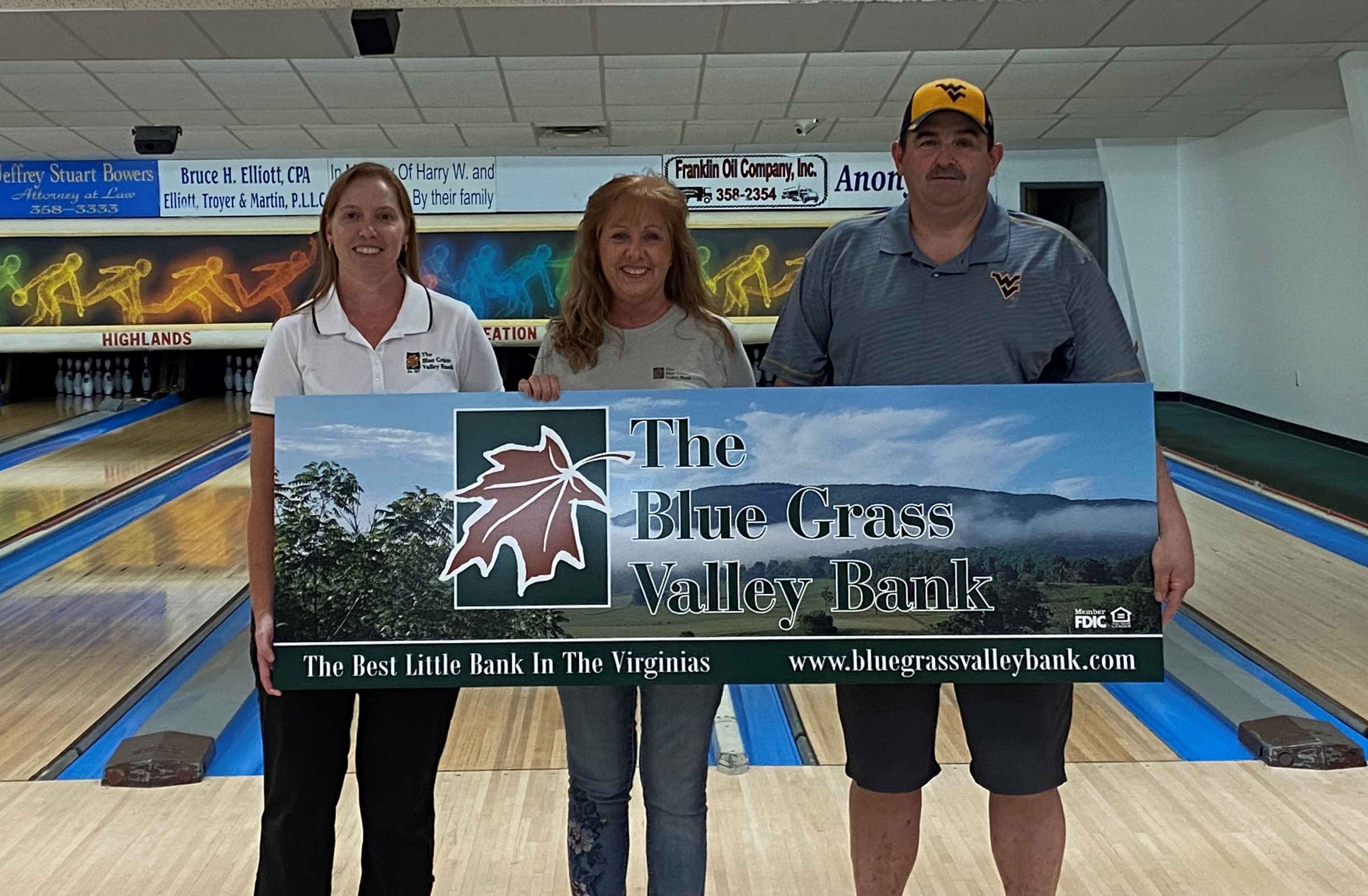 In a recent effort to give back to our communities, we proudly sponsored a lane at Potomac Highlands Recreation Center. A lot of hard work has been put in to reviving this recreation center so be sure to check it out. Pictured is Bank CEO Tina Blagg and CSR Robin Warner presenting our new sign to PHRC Board Member Ray Fox.
A special thanks to King Signs & Graphics in Monterey for making our beautiful sign. We love supporting local businesses.